"Our aim is to become one of the top 20 shipping hubs in the world."  
Interview by Aymeric Chauprade
* * *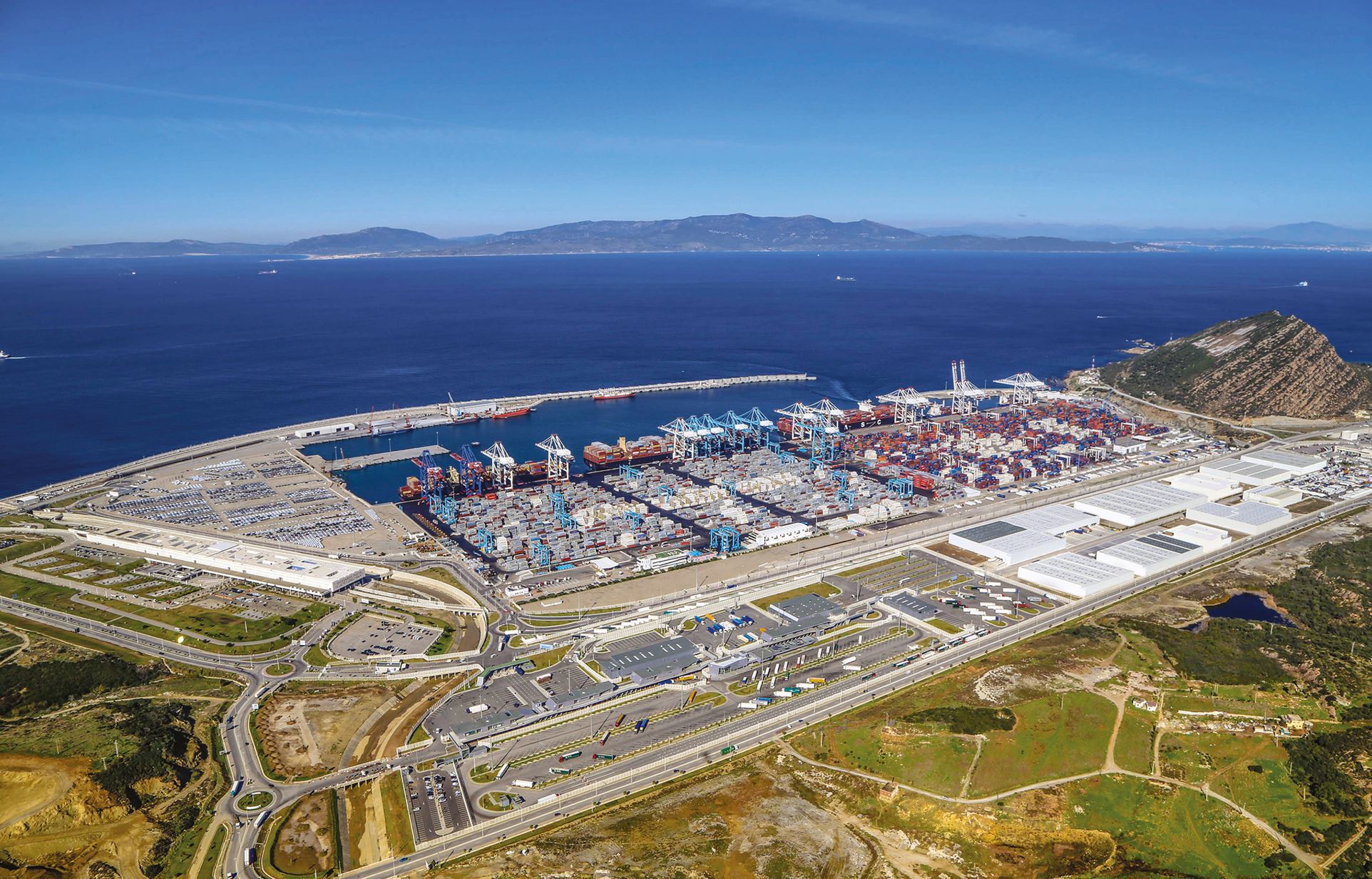 What does the Tanger Med port complex represent today?  
Tanger Med is a global logistics hub located on the Strait of Gibraltar, at the meeting point of the major north-south east-west maritime routes. It has three ports built over 1,000 hectares: Tanger Med Port, Tanger Med Port Passengers, and Tanger Med 2 Port. It has an impressive annual handling capacity of over 9 million containers, 1 million new vehicles, 15 million tonnes of oil and gas, 7 million passengers, and 700,000 TIR trucks(1). Since its beginnings and throughout its development, the complex has attracted a total of 103 billion dirhams in investments (9.8 billion euros) in port, logistics and industrial facilities. After 14 years of operation, we are now the biggest container port in the Mediterranean basin, and have confirmed our leadership on the African continent for the fourth year in a row.
Do these results meet the initial objectives set out at the port's creation? 
The integrated industrial-port complex of Tanger Med comes from the strategic vision of His Majesty King Mohammed VI, as presented in his 2003 address, to make the project an "integrated model of regional development" and an "active partner in international trade that is embedded in the global economy".
Today, it is a maritime and logistics hub for the world's biggest shipping alliances, as well as a major transhipment hub for inter-continental flows and for dispersed flows towards Africa, which make up close to 40% of container traffic handled. It is also an industrial platform for some of the biggest names in shipping (Maersk, CMA-CGM, Hapag Lloyd), logistics (DHL, CEVA Logistics, Nippon Express, Decathlon) and industry (Varroc, Hands Corporation, Siemens, Valeo, Magneti Marelli).
What are your key development plans and the desired outcomes?  
We will of course continue to fulfil our role as an essential shipping hub. Our handling capacity of 9 million containers makes us the busiest container port in the Mediterranean, so we will continue to drive forward our productivity and competitiveness. Our aim is to become one of the top 20 shipping hubs in the world.
Parallel to that, we are expanding in logistics by strengthening world‑world flows, and by consolidating industrial and agro-food export logistics corridors from Africa to Europe.
We are also developing attractive business parks, as multinational companies in the automotive, aeronautics, electronic, textile and logistics sectors choose our industrial platform for their operations.
How is Tanger Med connected to the rest of the world?
Every week, Tanger Med connects to over 180 global ports in 70 countries. We are three days away from the northern Europe, 10 days away from the United States, 20 days away from China, and bridge the 14 km between Africa and Europe. There are also "short-distance" lines connecting Tanger Med to ports in Spain (Algeciras, Motril, and Barcelona), France (Marseille and Sète), and Italy (Genoa). Logistically speaking, these routes are ideal for importers/exporters to reach their target markets. On the African continent we connect with some 40 ports in 20 countries every week. Tanger Med also links up with a road network (highways and expressways) and a railway network to move goods and passengers to the Kingdom's economic centres. 
Is there still room to grow in terms of connections, vessel turnaround time, security, and other areas? 
As a deep-water port, Tanger Med can receive the biggest container ships in the world. In 2020, 916 mega ships (over 290 metres) called to port, which is 14% more than in 2019. We take special care to meet the expectations of our maritime partners with regards to the management of their port-call requests. That is why we have a digital management system in place for prioritising port calls, allowing us to reduce vessel waiting time, improve maritime traffic security, and optimise the allocation of ship services (piloting, towing and mooring). In fact, we are an active member of the international Port Call Optimization task force, alongside ports like Rotterdam, Hamburg, Antwerp and Los Angeles. Our port-master and piloting teams play an important role in the vessel reception process thanks to their commitment and involvement, day in and day out, to ensuring that port calls take place in the best conditions.
All our facilities are equipped with an integrated port safety system. We also have effective security arrangements in place that are essentially based on risk prevention and rapid response in the event of fires or other disasters in the port area.
What about the environment?  
From day one, Tanger Med has made considerable efforts to phase in a scalable sustainable development approach, enabling it to pursue its growth while respecting the environment.
To manage our water in an eco-responsible way, we have the Station Marpol plant for collecting and treating water containing oil and gas, solid waste from vessels, and for recycling wastewater from the port complex and business parks.
We have also launched an energy efficiency programme by installing LED lighting in the port complex and business parks. In recognition of our efforts, in 2020 we were again recipients of the PERS-certified EcoPorts certification issued by the European Seaports Organisation (ESPO). Tanger Med remains the first non-European port to have received this distinction and to be part of the EcoPorts network.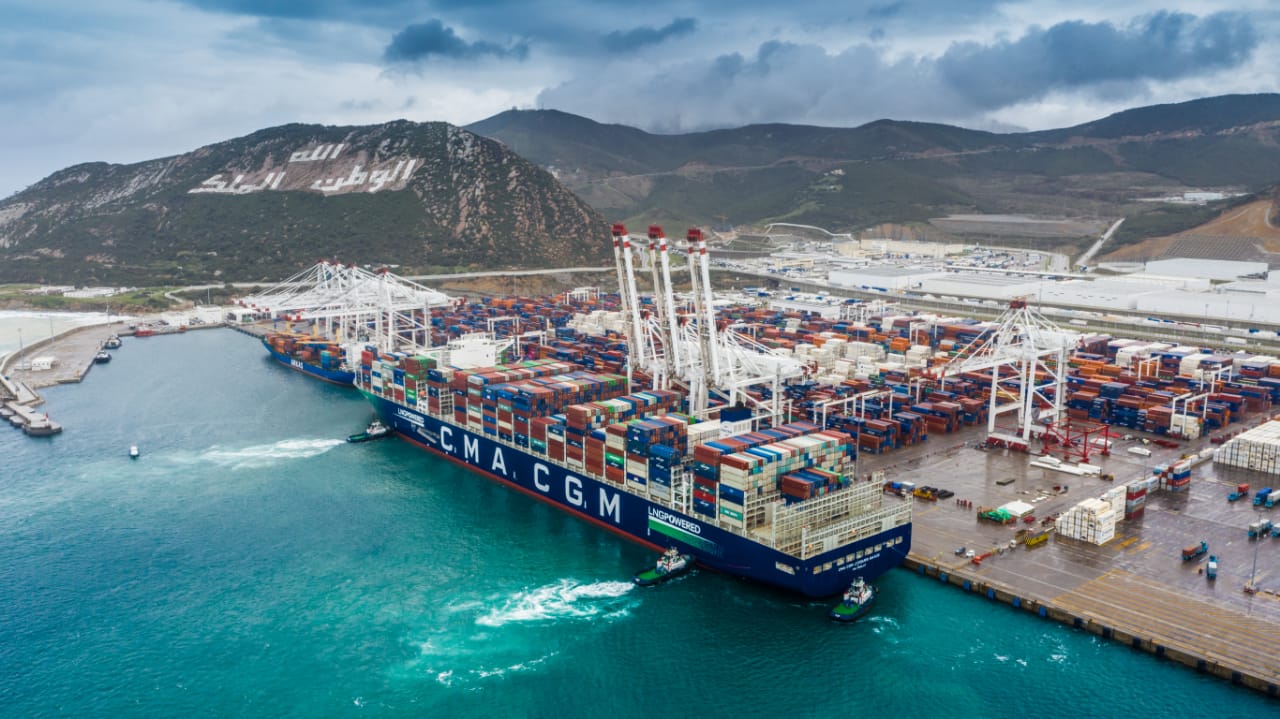 Compared to other Mediterranean ports, how do you rank Tanger Med in terms of capacity, competitiveness, sustainable development, etc.? 
In 2020, Tanger Med confirmed its position as a leading port in the Mediterranean by exceeding the bar of 500,000 containers handled per month five times, even setting a new record in November by handling 553,164 TEU (Twenty-foot Equivalent Unit) containers. No port in the Mediterranean has ever achieved such volumes of traffic and level of productivity. We want to continue in this way, and become a leading platform in the Mediterranean basin by increasing traffic capacity, especially container and TIR truck traffic, but also by consolidating our stronghold as an indispensable and competitive platform for the big shipping alliances and for global trade. Other ambitions include supporting environmental protection and sustainable development initiatives, and shifting to digital in order to become a "smart port" equipped with the latest in modern and innovative technology. 
Tanger Med is also a major industrial platform. Can you tell us what this is and what it represents today? 
Tanger Med is indeed a logistics and industrial platform, developed on 2,000 hectares over a 5,000-hectare land base. Built onto the port complex, the platform has six business parks, chiefly in the automotive, aeronautic, textile, agro-food, logistics and services sectors. Today it hosts over 1,100 active companies, representing a total business volume of 59 billion dirhams (5,3 billion euros). The latest Financial Times listing ranks the Tanger Med industrial platform as the second biggest global economic zone after Dubai in terms of attracting new foreign investment. 
How does the Tanger Med free zone stand out from other free zones, and what are the advantages for investors?
The Tanger Med industrial platform has a lot to offer for operators. It stands out for the quality of its integrated services, its infrastructure based on international standards, and its geographic location. These attributes offer investors a 14 km bridge to Europe, and maritime connectivity to over 180 ports in 70 countries. Our subsidiary Tanger Med Zones is the planner, developer and operator of the Tanger Med industrial platform. Tanger Med Zones facilitates investment from international and Moroccan operators, and is the main set-up, building and operating interface.
Which industries or what kind of businesses in general do you plan to develop in your free zone? 
In our business parks we have developed industrial sections around the automotive, aeronautic, textile, agro-food, logistics and services trades. In automotive, for instance, we have an ecosystem of close to 100 equipment suppliers who have come to support manufacturers (Renault and PSA) set up in Morocco, as well as those in Europe (Ford, Volkswagen, Jaguar, etc.).
On the logistics side, the area run by our Medhub subsidiary draws in the world's biggest 3PL(2) providers, which have set up at Tanger Med to operate their distribution hub on the African, European and American continents. Direct logistics interchange with over 100 countries worldwide takes place in this area.
Diversifying the business parks remains a key priority for the group, and it has created industrial areas for export, as well as "non-free" zones specialised in services, trade, industry and logistics for the domestic market. We are therefore working on new economic and commercial business parks in retail(3) and services in the northern region of Morocco.
What do the next few years hold for maritime transportation and trade in the Mediterranean?
According to the United Nations Conference on Trade and Development (UNCTAD), 90% of global trade is seaborne. This gives the Mediterranean has a pivotal role, for it concentrates 20% of global maritime trade, 10% of containers in transit, and over 200 million passengers moving throughout the entire Mediterranean basin. In recent years the global maritime transportation industry has undergone a number of changes that will be compounded in the post-Covid era. The redistribution of global logistics chains, the acceleration of e-commerce and the recalibration of supply chain are just some of the contributing factors.
---
TIR, which stands for Transport International Routier, is a customs regime designed to optimise the movement of goods in the international road transport network. Source: United Nations Economic Commission for Europe

A 3PL (Third-Party Logistics) provider is a supplier in the logistics chain that is responsible for executing a small or large part of its client's logistics. This form of outsourcing mostly concerns warehousing and transportation (and related services) — two activities that require a tremendous amount of investment, and which a great deal of companies prefer to subcontract. Source: logistiqueconseil.org

The last link in the distribution chain.