"Indian Navy aims to be the Preferred Security Partner in the region" 
Interview by Bertrand de Lesquen
What is the added value of an event like the Indian Ocean Naval Symposium (IONS)

1

?
In terms of maritime security in the Indian Ocean, like elsewhere, many threats that manifest in the maritime domain are transnational in nature. Similarly, challenges posed by issues like natural disasters, climate change, etc, also affect all states. Effective mitigation of these threats and challenges needs suitable, collective efforts. In this regard, IONS is a very important construct in the IOR since it provides a common platform for navies to interact with one another to deliberate and resolve issues of mutual concern.
The IONS construct was conceptualised to promote mutually beneficial means, methods and mechanisms of constructive engagement on issues that manifest in the maritime domain, and to evolve collaborative remedies relevant to regional maritime security concerns through a consensus based, participative, and cooperative approach.
Thus, we can say that IONS epitomises the concept of 'Collective Maritime Competence', giving every member nation, an equal seat at the table.
It allows navies to collectively harness niche capabilities of individual members for the greater common good.
IONS' primary effectiveness would remain in the area of enhancing maritime security on a regional basis; providing a forum for Navies (and Maritime Services) to periodically meet and discuss a wide range of issues and come up with solutions.
It is a multilateral construct that has proved that 'the sum is greater than its parts'. Consisting of 24 Members and eight Observers, IONS is the largest such organisation in the region and includes members of APEC, ASEAN, GCC, SADC, SAARC, Arab League, WPNS, and all members of IORA2. As evident from the wide membership of IONS, one of the key value additions of the construct is fostering a collective regional recognition for the need for cooperation and collaboration in the maritime domain.
IONS focuses on issues related to collective and consultative enhancement of maritime security. Its three Working Groups viz., Maritime Security, HADR, and Information Sharing and Interoperability, all aim to further this sense of common purpose and partnership. As a responsible Nation and stakeholder in regional maritime security, the Indian Navy plays a crucial role in nurturing IONS as a collaborative platform and an instrument of enhancing overall security quotient of the IOR.
What does the Indian Ocean represent for India in the early years of the 21st century?
Ans. As the only Ocean named after a country, the role of Indian Ocean in shaping India's destiny and evolution dates back to the very beginning of civilisation. Historical evidence suggests maritime linkages between the Indus Valley and Mesopotamia as far back as 3000 BCE. Across the ages, Indian Ocean has played a critical role in sustenance, trade, cultural engagement, and security of the people of India. In the modern world, this has not changed.
The fact that 90% of India's trade by volume transits over the seas emphasises the clear dependence of India's prosperity on the seas. In terms of security, the impact of the seas was underscored by the 2008 Terror attack in Mumbai. The criticality of the Indian Ocean to India's future is evident through India's dependence on Sea Lines of Communication, hydrocarbons, fisheries, marine resources, underwater communication cables, coastal populace, and the entire gamut of activities related to the Blue Economy.
The Indian Ocean has a cooperative characteristic for India, as evident in India's initiative termed as 'Indo-Pacific Oceans Initiative' (IPOI), which focuses on the broader Indo-Pacific, including the Indian Ocean. It is based on seven interconnected pillars of Maritime Security, Maritime Ecology, Maritime Resources, Capacity Building and Resource Sharing, Disaster Risk Reduction and Management, and Science, Technology and Academic Cooperation. Thus, it is through the Oceans that India seeks prosperity, not merely for itself, but for the region as a whole.
The first two decades of the 21st Century have underscored the centrality of the Indian Ocean to, not just India, but also the world at large. A major part of the world's energy flows over these waters, as does a significant portion of world trade. The abundance of resources, ranging from Africa to South East Asia, have led to growing competition. In military terms, the Indian Ocean has stood witness to most major conflicts and the bulk of volatility of the 21st Century – Afghanistan, Gulf War, Yemen, Somalia, the Persian Gulf Crises, etc. The presence of naval forces from almost every major country in the Indian Ocean further emphasise its significance to regional and global affairs.
Further, the myriad challenges in the Indian Ocean, today, range from traditional security threats, conflicts on land spilling over to seas, to non-traditional threats such as Climate Change, natural disasters, illegal exploitation of seas through IUU Fishing, Armed Robbery, Piracy, drug/ arms trafficking, which in turn feeds into terrorism, radicalisation and organised crime. As a result, we are witnessing a great churn in the Indian Ocean.
While the Indian Ocean is not India's Ocean, the unique geography of the Indian Peninsula affords India the opportunity for a greater role in enabling regional stability and prosperity. As India's External Affairs Minister said recently, "India would like to be a steady, reliable, good and exemplary partner for the 'Global South'." This will, in large measure, be enabled by the Oceans, which help in forging bridges of trust and friendship.
What is the presence of Indian Navy in the Indian Ocean? What are its main missions?
Geography endows India with a key stake in the Indian Ocean. Accordingly, the entire Indian Ocean forms a part of the Indian Navy's Area of Interest and the Indian Navy maintains a significant and persistent presence in our areas of interest.
The geographic necessity is further accentuated by the increasing complexity of maritime security challenges that encompass, both traditional and non-traditional threats, and frequent incidence of natural disasters/ regional instabilities over the past decade.
Furthermore, India's reliance on the seas for its external trade and sustaining its energy needs mandates a pivotal role for the Indian Navy in safeguarding India's Sea Lines of Communication.
In order to protect and safeguard our national maritime interests in the IOR, the Indian Navy transitioned to Mission Based Deployments in 2017. This operational philosophy entails deployment of combat ready ships and aircraft at critical areas in the IOR. Through these deployments, we are able to establish a visible, credible and responsive presence in the IOR. These deployments also allow us to respond to emerging situations in the form of military operations, constabulary intervention, regular collaborative engagements with like-minded navies, and being one of the first responders to crisis or natural calamities.
The various roles of the Indian Navy and resultant missions are articulated in our Maritime Doctrine and Maritime Security Strategy. Some of our key missions, which also contribute to regional maritime security include: Close monitoring of maritime environment to safeguard maritime interests through presence, deterrence and surveillance; Safety of Sea Lines of Communication critical for trade; Contribute towards enhancing Maritime Domain Awareness; Counter non-traditional threats like piracy, IUU fishing, drug/ arms/ human trafficking; Humanitarian Assistance and Disaster Relief to IOR littorals; Bilateral/ multilateral exercises, coordinated patrols and passage exercises (PASSEX) with Friendly Foreign Countries to build interoperability; Provide assistance to some of the IOR littorals through joint EEZ surveillance efforts and engage in capacity building; Cooperation with like-minded countries to enhance the security of the oceans whilst promoting a rules-based order that benefits the World at large.
As part of its wider role of providing security to shipping in the IOR, the Indian Navy continues to deploy a ship for anti-piracy patrol in the Gulf of Aden since 2008. IN units have also been deployed in the Gulf Region to ensure safe passage of Indian Flag Merchant Vessels transiting through these waters since June 2019. Whilst deployed in the Southern/ Central IOR, Indian Navy units also undertake EEZ surveillance of littoral counties as per extant agreements, on request. The Indian Navy aims to be the 'Preferred Security Partner' in the region, in pursuance of our National vision of SAGAR – Security And Growth for All in the Region.
In addition, as the 'First Responder' to natural disasters across the seascape of the IOR, the IN provides assistance to littorals affected by calamities and SAR at sea, on request. Notable HADR missions that the Indian Navy has been part of in last year include, escort of United Nations World Food Program (UNWFP) food-aid vessels, assistance following MV Wakashio3 and Motor Tanker New Diamond4 incidents.  During the COVID – 19 pandemic, Indian Navy undertook Op Samudra Setu to evacuate about 4,000 Indian Nationals from Iran, Maldives and Sri Lanka. Indian Navy has also been undertaking missions to provide humanitarian assistance to five IOR littoral nations, four East African nations and two South East Asian nations.
What are the Indian Navy's cooperation activities in the Indian Ocean?
The Indian Navy acknowledges that the ubiquity of the maritime domain and the transnational nature of threats demand a collective response. Therefore, our maritime cooperation initiatives in the Indian Ocean Region are founded in evolving 'Regional solutions for Regional problems', together with other stakeholders in the region. Indian Navy has long-standing and strong bilateral relations with littoral countries based on history, culture and trade. This provides a strong foundation for a mutually beneficial and trusted relationship, spanning training, operations, Search and Rescue, capacity and capability building, technical and material assistance etc.
IOR is a region of focus for our co-operative initiatives, in keeping with the Government of India's 'Neighbourhood First' Policy. Our operational co-operation is focused on enhancing the regional security quotient through collective endeavours. Accordingly, the IN undertakes EEZ surveillance of littorals on request and Coordinated Patrols to tackle non-traditional challenges. Through our bilateral and multilateral exercises, we exchange best practices and develop interoperability. Our capacity-building and capability enhancement focuses on supporting and enabling island nations in protecting their vast maritime resources. We also undertake training on a variety of naval specialisations, including niche aspects of submarine and aviation training. In addition, information sharing to enhance maritime domain awareness is also a key area for cooperation, and the IFC-IOR is an example the same.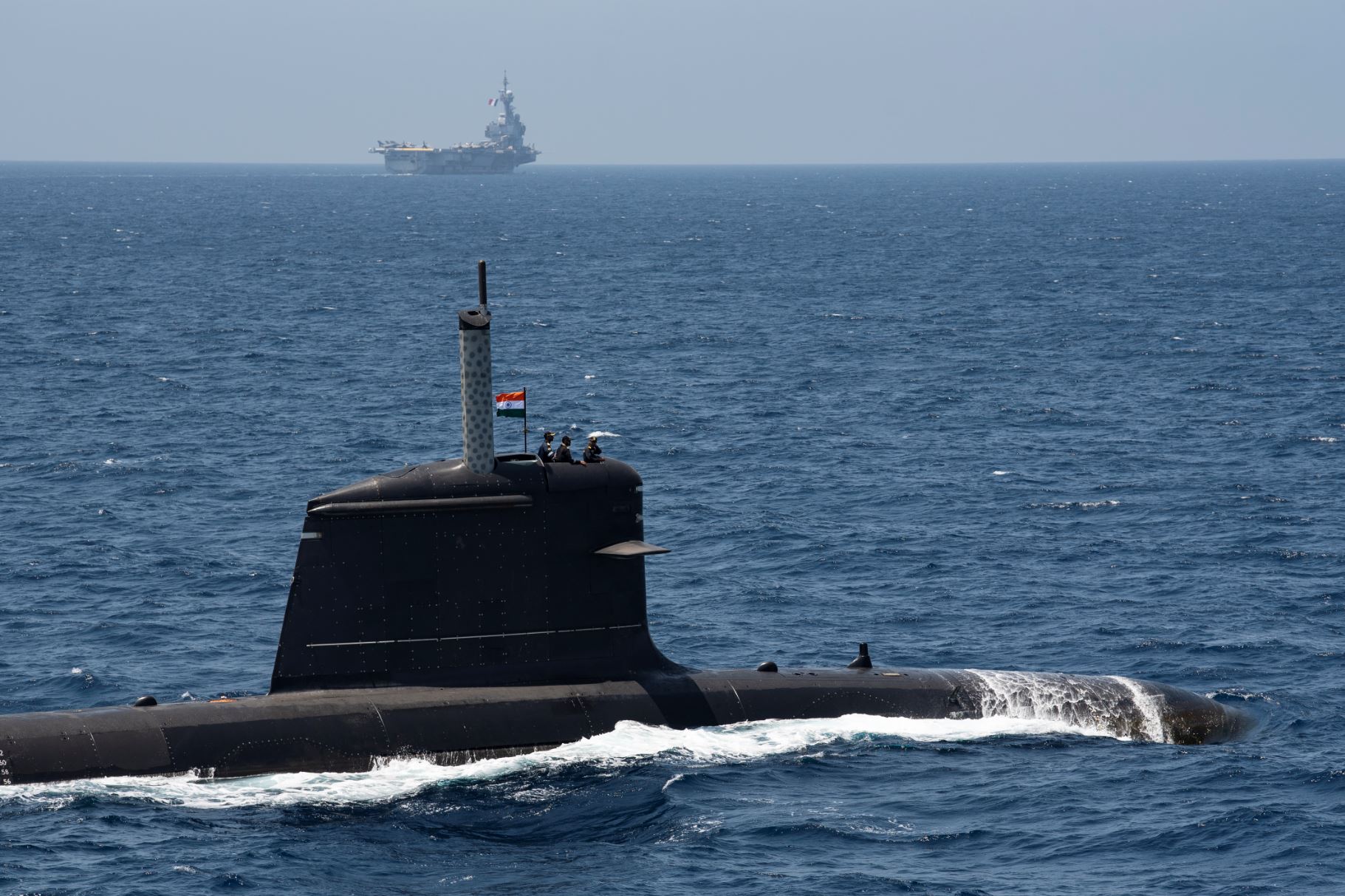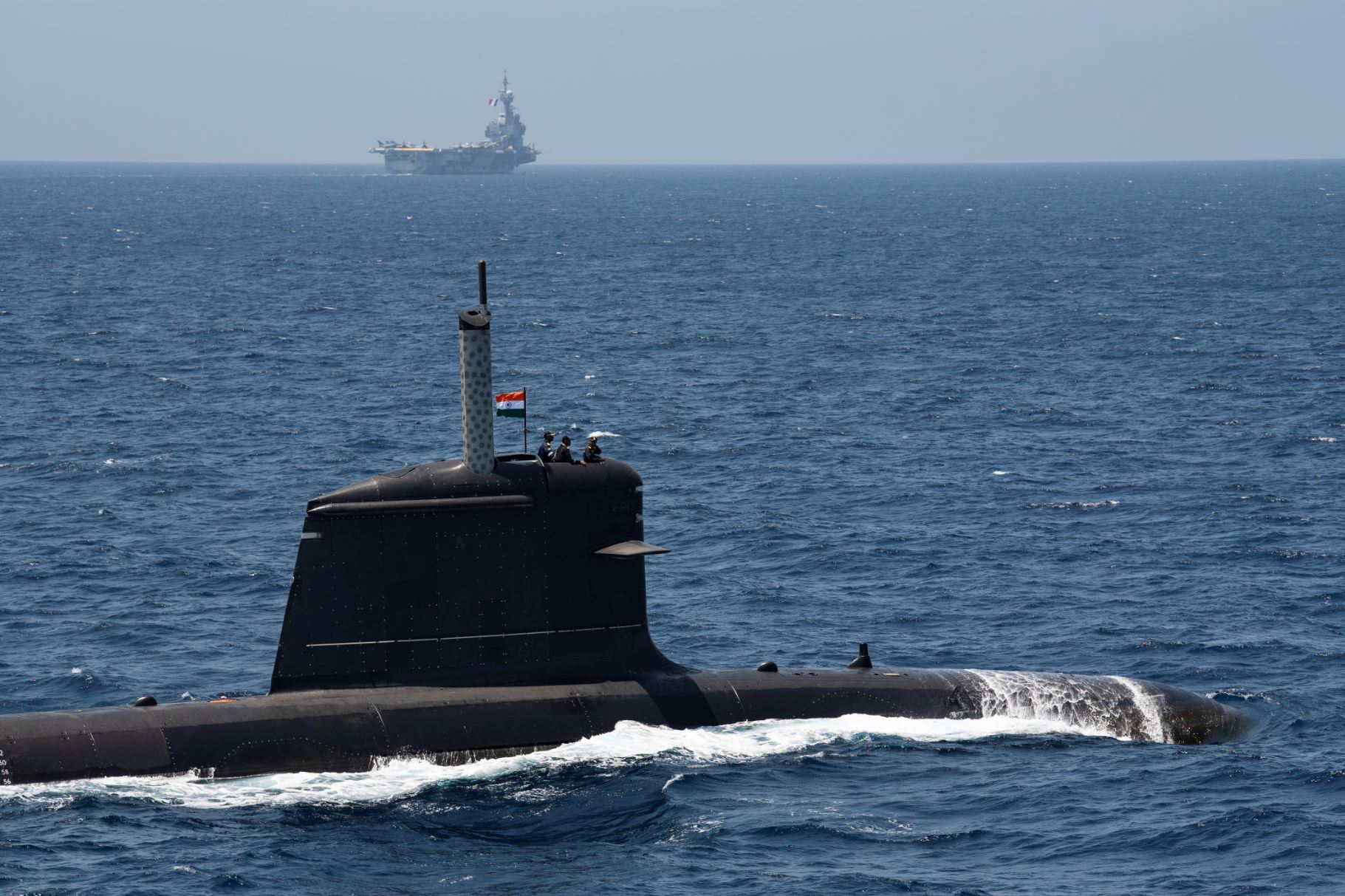 What relations does Indian Navy have with the French Navy? 
India and France have a deep rooted and enduring relationship. The traditionally close relation between India and France was formalised as a strategic partnership in 1998. This multi-dimensional partnership was reinforced by the 'Joint strategic vision of India France Cooperation in the IOR' adopted in March 2018. Based on this alignment at the apex level, our navies too, share very close relations. In fact, French Navy was the first Navy with which the Indian Navy started staff talks, back in September 2003.
Our Navy-to-Navy relationship is founded in operational engagements and the VARUNA series of bilateral maritime exercises, instituted in 2001, is the backbone of this relationship. The complexity of the VARUNA exercise series has evolved over the years to address emerging challenges in the maritime security scenario. Recently, the IN also participated in the La Pérouse Exercise conducted by the French Navy5. Our warships regularly call at each other's ports. The IN, much like the French Navy, is fully committed to enhancing regional maritime security by sharing best practices and increasing interoperability.  
In keeping with the centrality of maritime domain awareness for driving operations, we have enhanced our information sharing mechanisms. The French Navy was the first to position an International Liaison Officer (ILO) at IFC-IOR6 in early 2020, which underscores the depth of our bilateral relationship.
French defence ecosystem has been a key partner in IN's capability enhancement endeavours. I recall that the IN's French connection is very old indeed. We continue to operate the French designed Alouette Helicopter, and the IN also operated the Alize carrier borne ASW aircraft from our aircraft carrier INS Vikrant 50 years ago. In fact, having myself flown the Alouette in my younger days, I very much feel like part of that connection. This long-standing partnership has been further bolstered by France partnering the IN in the ongoing Scorpene Project.
Overall, I will say that the Indian and French Navies have a very close partnership, which has grown over the years. This relationship is bound to flourish in the future owing to our common interests and convergence in thoughts.
---
Meeting of the Chiefs of Staff of the navies of the Indian Ocean riparian countries created in 2008 on the initiative of India. The 2021 edition takes place in late June on the island of La Réunion under the presidency of France, which succeeds Iran at the head of the IONS for two years.

APEC, Asia Pacific Economic Coopération ; ASEAN, Association of Southeast Asian Nations ; CCG, Gulf cooperation council ; SADC, Southern African Development Community ; SAARC, South Asian Association for Regional Co-Operation ; WPNS, Western pacific naval symposium ; IORA, Indian Ocean Rim Association.

At the origin of an oil spill following its grounding off Mauritius in July 2020

The vessel caught fire in September 2020 off Sri Lanka

The exercise brought together the Amphibious Helicopter Carrier (AHC) Tonnerre, the La Fayette Frigate (FLF) Surcouf and six other vessels from the U.S., Australian, Indian and Japanese navies in the Bay of Bengal from 5 to 7 April 2021. 

Information Fusion Centre – Indian Ocean Region officially launched in 2018.
---
Top picture: Indian Navy destroyer INS Chennai (D65), in the Indian ocean, during a live- fire exercise as part of Malabar 2020. Photo US Navy